The Shattered Dream
September 3, 2013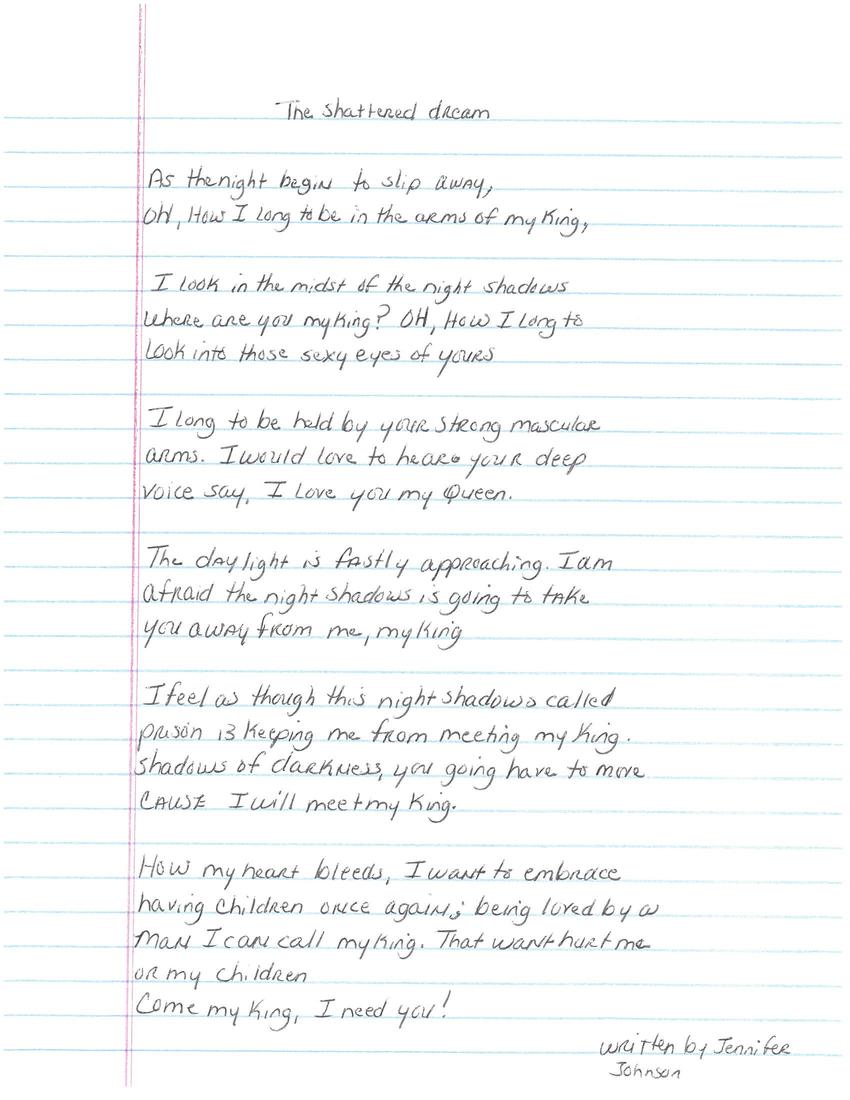 Transcription
Fully transcribed
The shattered dream
As the night begin to slip away,
Oh, how I long to be in the arms of my King,
I look in the midst of the night shadows
Where are you my King? Oh, he I long to
look into those sexy eyes of yours
I long to be held by your strong muscular
arms. I would love to hear your deep
voice say, I love you my Queen
The daylight is fastly approaching. I am
afraid the night shadows is going to take
you away from me, my King
I feel as though this night shadows called
prison 13 keeping me from meeting my King.
Shadows of darkness, you going to have to move
cause I will meet my King
How my heart bleeds, I want to embrace
having children once again, being loved by a
man I can call my King. That won't hurt me
or my children
Come my King, I need you!
Written by Jennifer Johnson
The shattered dream As the night begin to slip away, Oh, how I long to be in the arms of my King, I look in the midst of the night shadows Where are you my King? Oh, he I long to look into those sexy eyes of yours I long to be held by your strong muscular arms. I would love to hear your deep voice say, I love you my Queen The daylight is fastly approaching. I am afraid the night shadows is going to take you away from me, my King I feel as though this night shadows called prison 13 keeping me from meeting my King. Shadows of darkness, you going to have to move cause I will meet my King How my heart bleeds, I want to embrace having children once again, being loved by a man I can call my King. That won't hurt me or my children Come my King, I need you! Written by Jennifer Johnson
comments powered by

Disqus