We are thrilled that you want to listen, and even contribute, to the Prison Poetry Workshop and want to make it as easy as possible for you. We are also dedicated to getting the program inside our nation's prisons, jails, and youth facilities and will work with you to make it happen — even if we have to mail you a cd.
In addition to being hosted on our site the series. both the broadcast and the podcast, are hosted on PRX.Org for radio stations and Itunes and SoundCloud for individuals.
PRISON POETRY WORKSHOP FULL PODCASTS:
Workshop with Judith Tannenbaum  
Judith has taught poetry in prisons across the United States and intensively at San Quentin and other California prisons through Arts-in-Corrections. We asked Judith to do a writing workshop for us. Prison Poetry Workshop has asked poets from across the country to record a special workshop for our listeners. Feel free to play this series for incarcerated, or formerly incarcerated youth and adults and ask them to write their own poetry in response and send them to us. Responses may be posted on the Prison Poetry Workshop website and shared with our listening audience.
Luis Rodriguez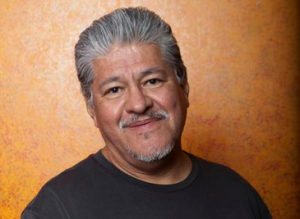 Luis Rodriguez
We went to interview Luis Rodriguez simply because his writing was referenced by so many of the incarcerated writers we met and interviewed. Rodriguez is a cultural worker, activist, and poet. His best-known work, Always Running: La Vida Loca, Gang Days in L.A., was read by many of the people we interviewed.
Patrick Mathieu

Patrick Mathieu is a New York city based artist who majored in dance at City College of New York and had a successful career as a performer. Then, one day, there was a knock on his door.
Patrick shared his story of incarceration with the Prison Poetry Workshop and his journey both in and out of prison.  Today, Patrick leads creative writing workshops on Rikers Island and at the Fortune Society.